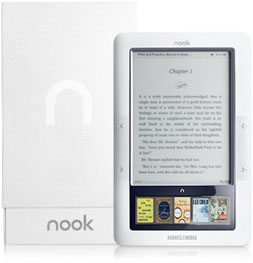 Nook 1st Edition
Can I use OverDrive?
Yes!
Do I need a separate computer to use OverDrive?
Yes. While the Nook does support Web browsing wherever there is a wireless connection available, downloading ebooks directly to the nook is not [yet] supported. E-books must first be downloaded to a computer with Overdrive Media Console and Adobe Digital Editions, then transferred to the Nook via its USB cable.
How many books will it hold?
The Nook 1st Edition comes with 2GB of memory that can store up to 1,500 books and periodicals, and is expandable up to 16GB additional memory with a microSD™ memory card. (Some of that capacity may be reserved for content purchased from the Barnes & Noble NOOK Store.) The Help, by Kathryn Stockett, is 453KB in the EPUB format, so the Nook could hold at least 2,207 copies of The Help if you only borrowed them from OverDrive.
Where else besides OverDrive and Barnes & Noble can I get books?
Any online vendor that offers the EPUB, PDB, or PDF formats.
How long does the battery last?
Up to 10 days with the wireless off.
Can I read the screen in sunlight?
Yes, the reading area of the Nook 1st Edition uses glare-free E-Ink technology and reads just like paper in sunlight.
Screen resolution?
No data on the Nook website, but the screen is 6", measured diagonally, and appears to be the same resolution as the 6" Kindle: 600 x 800 pixel resolution at 167 ppi (pixels per inch)
Size? Weight?
7.7 inches by 4.9 inches by 0.5 inches; 12.1 ounces (NOOK 3G+Wi-Fi); 11.6 ounces (NOOK Wi-Fi)
How large / how many sizes can I make the words display?
There are 6 font sizes with 3 font styles.
How do you turn the page?
Buttons on each side of the reading area are used to move back and forward a page at a time.
Does it remember my place?
Yes, when you reopen a book you were reading, it opens at the last page you were reading. You can also set bookmarks and go to the beginning of any chapter.
How much does it cost?
The Nook 1st Edition with WiFi currently lists for $119, and with WiFi + 3G (AT&T) for $169, if purchased directly from Barnes & Noble. Refurbished Nook 1st editions may be found at some online dealers.
Do I have to subscribe to a service?
No, there are no monthly fees for the 3G access.
Are the batteries self-replaceable or does it need to be sent in when they die?
The battery is self-replaceable, and a replacement battery can be purchased from a number of online vendors.
Can I use it with multiple formats?
The Nook 1st edition supports these formats for eBooks, graphics, audio, and other file types, transferred from your computer using the USB cable, or from the microSD card: EPUB (including Non or Adobe DRM); PDB; PDF; Graphics: JPG, GIF, PNG, BMP; Audio: MP3. Our EBSCO subscription database includes many popular full-text magazine titles in PDF; these files can be downloaded to your computer and transferred to the Nook 1st Edition for later reading. (Not Supported: DOC, LIT, TXT, AMZ (Amazon), LRZ/LRX (Sony))
Can it connect to the Internet?
Yes, there is a web browser built-in. Web browsing is possible, but awkward and limited because of having to switch focus from the touch screen-- which gives only a keyhole sized view of any webpage--to the E-Ink reading area and back again.
Can I use it to watch video?
No, there is no supported video format.
What else does it do?
Find a particular word or passage, add highlights and notes, look up a word in the built-in dictionary. Play music while reading. Loan purchased books to your friends who have a Nook or the Nook app. Download a free sample of any B&N e-book before buying it. Store and display your photos and play your music or audiobooks in the supported formats. It has built-in speakers, but a headset is recommended for the best sound. Use your own images as screensavers. It comes with Chess and Sodoku already installed. Airplane mode turns off the WiFi so that it can't be accidentally re-enabled. In addition to books, you can subscribe to many newspapers and periodicals that will be delivered wirelessly as soon as a new edition is available.
Conclusion
A good value for a dedicated E-Reader (as opposed to the more general purpose computer capabilities of the Nook Color). For a patron with vision challenges, I'd recommend the Nook 1st Edition over any of the Kindles, because of the nice, bright, touch screen navigation feature that takes the place of the Kindle keyboard and its tiny buttons.
Where can I get more information?
http://www.barnesandnoble.com/u/nook1-features/379002734/